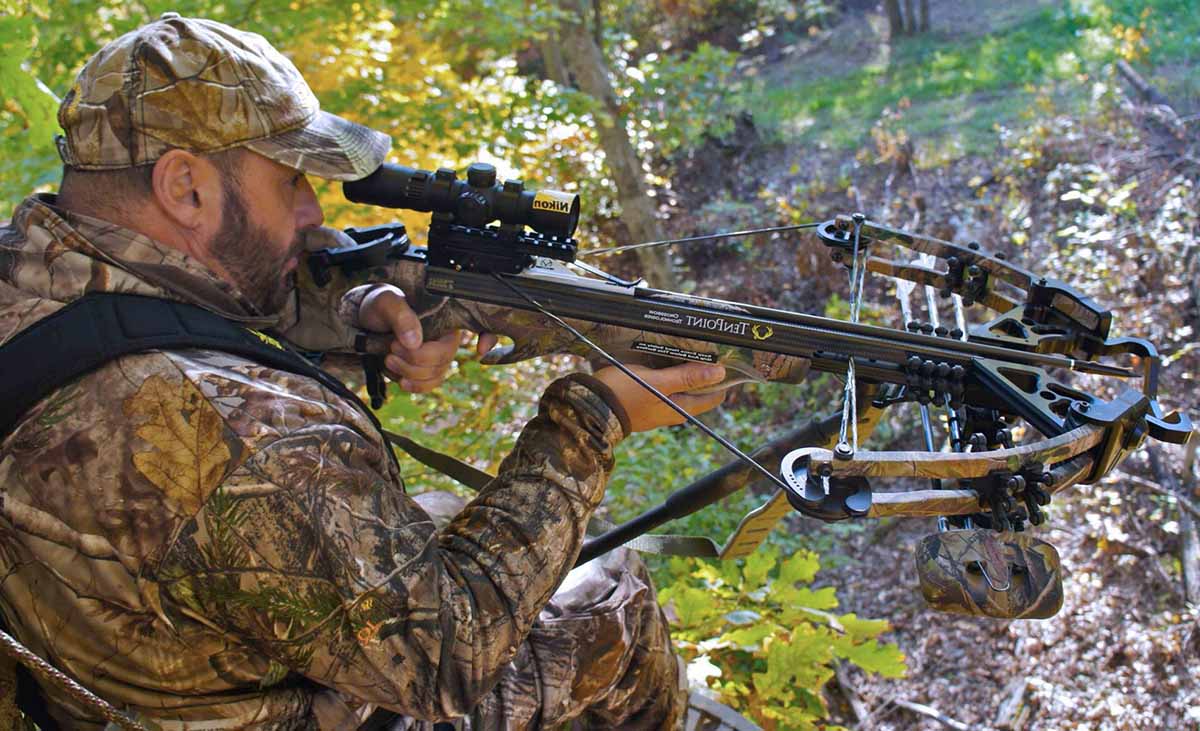 Over the decades, technological improvements have been made in all forms of hunting and shooting sports equipment. The crossbow just might be the piece that has seen the most dramatic improvements. These precision hunting machines have made leaps and bounds in terms of technology since the early 2000s, but that is typically accompanied by a leap in price point as well.
In this list, we are going to review the 10 best crossbows for the money, to help you get the most out of your crossbow, dollar for dollar. You'll find the list split into two categories: $0-500 and $500-1,000. They might not be the fastest, but they'll get the job done. They might not look the coolest, but they'll be pretty enough with their price tag to prove well worth the investment.
There will be a number of different brands included in this review, each representing its own unique niche in the industry. With that comes a broad range of packages boasting all sorts of different technologies. It'll be up to you to decide which value package is the right one for you!
5 Best Crossbows for the Money ($0-500)
This category is unique. These crossbows don't necessarily feature top-of-the-line performance, but they'll get the job done in a number of different circumstances. Hunting, target shooting, or even just to have around the house as a collector's item, these crossbows fit the bill. At $500 and below, you're going to find great beginner and entry-level crossbows, but they're not going to have some of the flashier selling features of the next category.
1. Barnett Recruit Recurve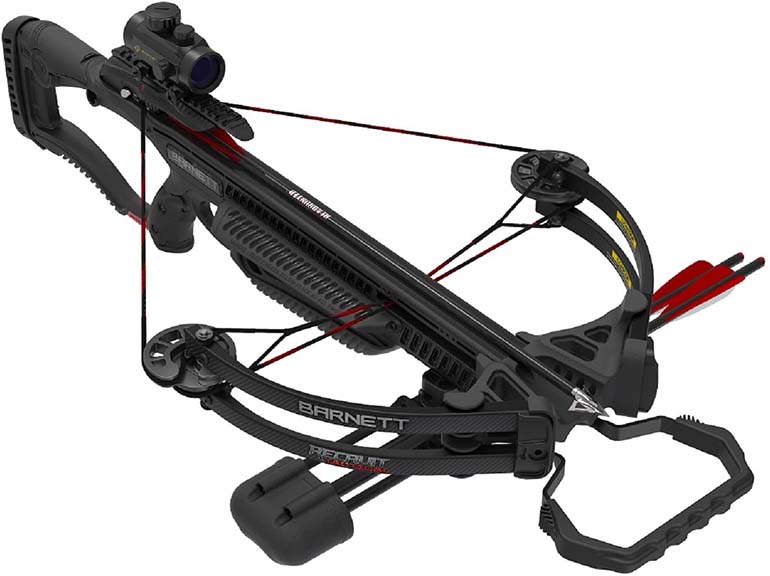 >> View On Amazon <<
Owned by Plano Synergy, the Barnett Recruit Recurve is your bare-bones compact crossbow. Being a recurve, the amount of maintenance required to keep this crossbow in proper working condition is minimal. There are no moving parts like bearings or axels that you would find on a forward draw compound crossbow, which means the number of things that can break or malfunction is limited as well. You're going to get a solid crossbow, compact and light enough, even, to shoot with one hand!
What you won't get is a ton of knock-down power. Shooting only 245 feet per second is not going to generate sufficient kinetic energy to hunt big game, but it'll do the trick for smaller game animals. Outfitted with a red dot sight, you'll be able to fire arrows downrange with ease and accuracy. The package also includes a three-arrow quiver that mounts on the underside of the crossbow.
Known for its smooth trigger pull and easy cocking, you'll have a blast with this crossbow. Especially knowing that it comes in at our lowest price point, well beneath the $500 cap on this category.
---
2. PSE Fang 350 XT Crossbow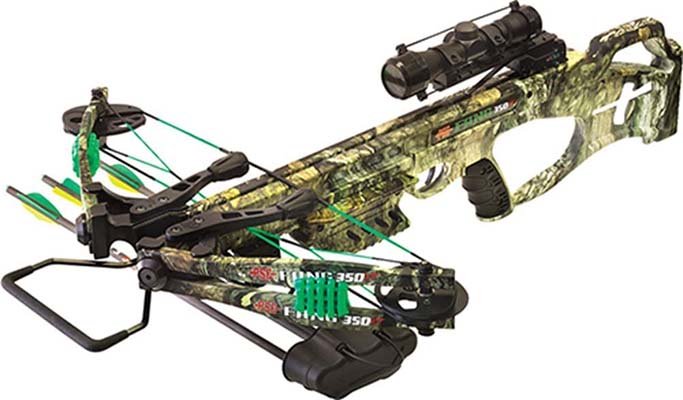 >> View On Amazon <<
Precision Shooting Equipment, PSE, has been a major player in the vertical and crossbow archery world for decades. They're known for pushing the limits and raising the bar across the board and they have a huge following of loyal PSE owners and shooters. The PSE Fang 350 XT is the second-lowest priced crossbow on this list, but that's not for lack of features.
The Fang 350 XT is aptly named for its ability to fire arrows at up to 350 feet per second. To achieve that, however, it requires 165 pounds of draw weight, much greater than that of the Barnett Recruit Recurve. It's also not quite as compact, at nearly 20 inches wide and 34 inches in length.
The package includes a three-arrow quiver, limb dampeners to eliminate vibration and noise, and the added safety feature of a dry-fire inhibitor to prevent the bow from firing when an arrow is not loaded. It also comes equipped with a 4×32 magnification scope. There can be no doubt that the PSE Fang 350 XT was designed as a budget-friendly hunting crossbow.
---
3. Killer Instinct KI350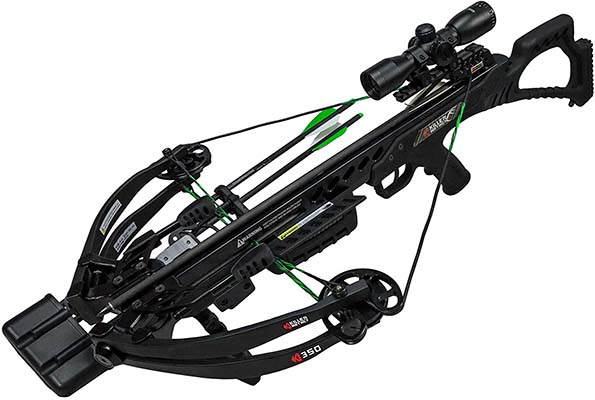 >> View On Amazon <<
The Killer Instinct KI350, like the Fang, shoots arrows at up to 350 feet per second. That's a pretty standard speed for the better crossbows under $500. Unfortunately, it does require an additional 10 pounds of draw weight (175 pounds) to produce this speed. The KI350 also features noise-dampening technology to help you remain quiet when shooting.
However, it is far narrower at a mere 14.5 inches axle-to-axle when cocked and comes equipped with the multi-reticle blue/green illuminated scope. That's a pretty nifty upgrade for a crossbow under $500.
Decked out in an all-black finish, the KI350 has a sleek tactical look to it and is one mean hunting crossbow for the money!
---
4. Barnett Whitetail Hunter II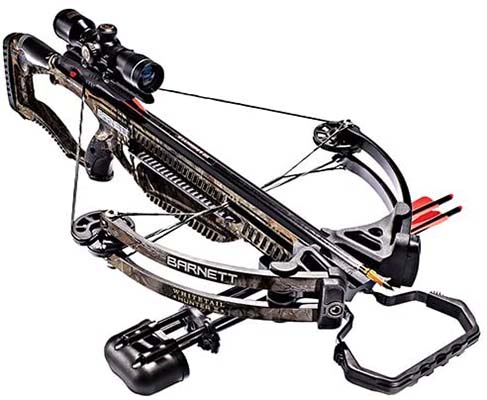 >> View On Amazon <<
A model year newer, the Barnett Whitetail Hunter II has surely outdone its predecessor. Featuring a 4×32 magnification scope, three-arrow quiver, and a rope cocking device, this crossbow was designed for hunters to take to the field right out of the box. Of course, due diligence is a must to ensure that you'll be accurate. Always take a couple of target shots just to be sure. One thing it has going for it is 350 feet per second arrow speeds with less draw weight, only 150 pounds.
Dipped in Realtree camo and outfitted with black accents, the Barnett Whitetail Hunter II is a hunting crossbow well worth its price point.
---
5. Bear X Bruzer FFL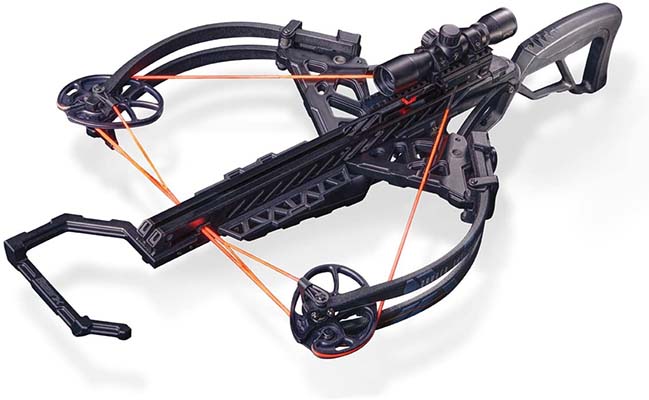 >> View On Amazon <<
Bear Archery has been a player since the beginning but didn't make their debut in the crossbow world until just a couple of years ago. The Bruzer FFL has an exceptionally unique look to it. One that is mostly limited to high-end crossbows. You'll notice that the limbs and cams are reversed. This lends the crossbow to be extremely well-balanced and gives it the ability to decrease the amount of draw weight required to produce relatively fast speeds.
At just 125 pounds of draw weight, the Bruzer shoots up to 335 feet per second. Now that's not quite as fast as the previous crossbows in this category, but the ease with which you can cock it more than makeup for that difference. It is a tactical black efficient hunting machine, ready for whatever situation you might be faced with.
---
5 Best Crossbows for the Money ($500-1,000)
This category brings our list up to some of the more prominent technological advancements in the crossbow world. Ranging from just over $500 with the first crossbow all the way right up to $1,000 with the last, you'll notice some striking differences in terms of features and overall aesthetics that give these crossbows a higher-end look without totally breaking the bank.
1. Excalibur Matrix 350SE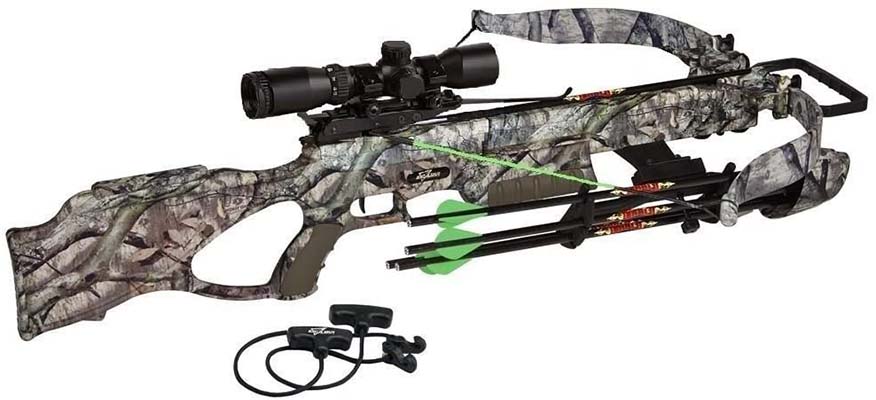 >> View On Amazon <<
The Excalibur Matrix 350SE is the only recurve crossbow to make it on this list, but it's for good reason. Boasting the same benefits as the first crossbow in our previous category, the Matrix 350SE is just about as durable as crossbows come. With fewer moving mechanisms than its compound crossbow counterparts, you can bet this crossbow, if handled and maintained according to manufacturer recommendations, will last you a lifetime.
Equipped with a scope, three-arrow quiver, and rope cocking accessory, you've got one heck of a reliable hunting crossbow in the Matrix 350SE. Firing arrows at the comparable 350 feet per second speeds as the crossbows earlier on our list, what you're paying for is not speed. Instead, you're making an investment into a hunting tool that won't let you down.
---
2. Wicked Ridge Invader G3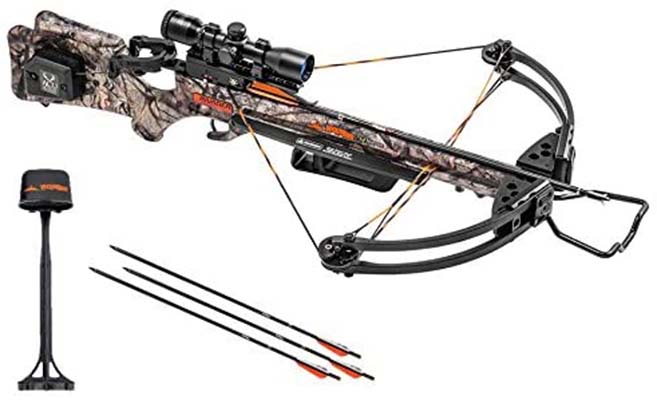 >> View On Amazon <<
Manufactured by the same precision-driven individuals as Tenpoint Crossbow Technologies, the Wicked Ridge Invader G3 packs one exceptionally unique accessory: a built-in crank cocking device called the ACUdraw (patented by TenPoint). The Invader G3 is actually a tough crossbow to place. Shooting 330 feet per second doesn't hold a candle to some of the previous crossbows on this list in terms of speed.
However, it is available for under $500 if you don't select the additional benefits of having the ACUdraw preinstalled. You can also purchase the Invader G3 with an integrated rope cocking device, or without any. Both options are under that $500 price point.
The reason, then, that the Invader G3 lives in this category of our list is because of the innovation of the ACUdraw. As a crank mechanism, it reduces the amount of force required to cock the crossbow to a mere 5 pounds! Now that is incredible when some crossbows on the market require 200+ pounds of draw weight under regular conditions. Its lack of speed is more than made up for with the inclusion of this efficient and ground-breaking technology.
---
3. Barnett Whitetail Hunter Pro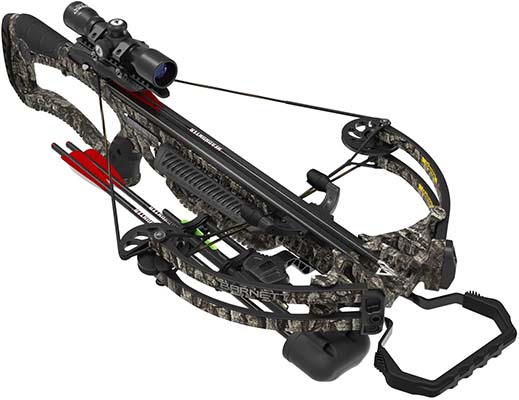 >> View On Amazon <<
Barnett makes another appearance on our list with the upgrade to the Whitetail Hunter II: its big brother the Whitetail Hunter Pro. The Hunter Pro outdoes all of the other crossbows on this list by shooting a staggering 380 feet per second with the 160-pound draw weight. Coupled with a regular rope cocking accessory, 4×32 scope, and a three-arrow quiver, the Whitetail Hunter Pro is the beast of this list.
One thing it doesn't have going for it, though, is looking. There's nothing special about it. No genius cocking device. No high-powered illuminated scope. And no fancy aesthetic features. Just a bare-bones, performance-minded hunting crossbow.
---
4. TenPoint Turbo GT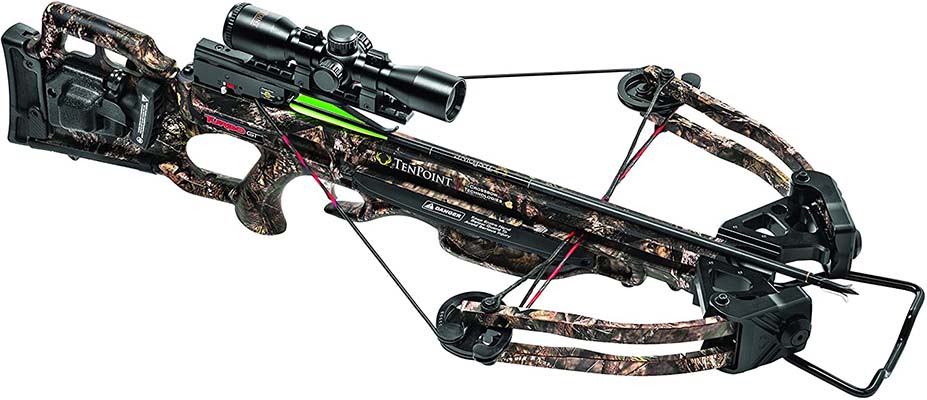 >> View On Amazon <<
A list of crossbows just wouldn't be complete without featuring at least one TenPoint crossbow. An industry powerhouse known for making the "Cadillac's" of crossbows, they mainly produce high-end stuff, but they have been able to break into the lower value-oriented price points in recent years.
Enter the Turbo GT. Shooting 360 feet per second with a 175-pound draw weight, it's the second-fastest bow on this list. Its biggest selling feature, aside from the options for a cocking mechanism integrated directly into the stock, is the XLT front end. Providing a longer power stroke with stronger limbs, this bow shoots with deadly accuracy, and great knock-down power, and is extremely narrow for a forward draw crossbow. It's the narrowest bow on our list so far and by far the narrowest of the traditional forward-draw crossbows on the market.
Available with either the ACUdraw (same as was seen on the Invader G3) or the ACUdraw 50 which reduces draw weight by 50% and is coated in a sleek Mossy Oak camouflage pattern, the Turbo GT is your workhorse crossbow. A go-anywhere, do-anything kind of bow, built for consumers looking for quality performance at a budget-minded price point.
---
5. Horton Vortec RDX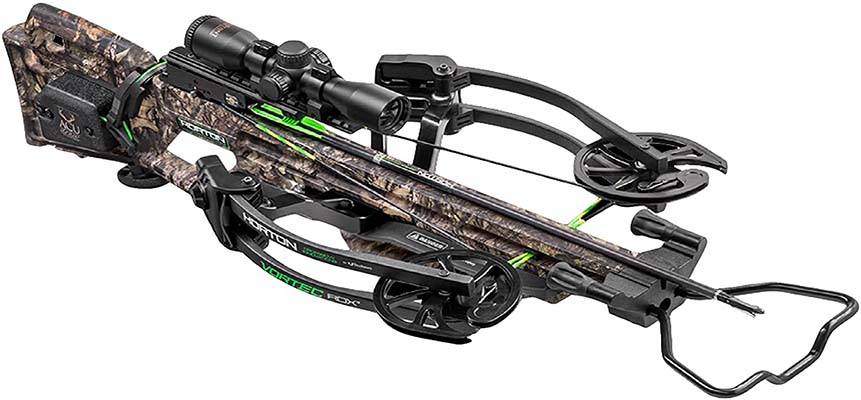 >> View On Amazon <<
Horton is another name that goes all the way back to the beginnings of the modern compound crossbow. Recently purchased by TenPoint Crossbow Technologies as well, you'll find crossbow models with the TenPoint flare and precision coupled with the edgy Horton brand. Crossbows like the Vortec RDX will round out our list. Tipping the scales at the high end of our %500-1,000 price point, the Vortec is special, just as the Bear Bruzer was in our first category.
Ultra-narrow, the narrowest bow on our list at just over 9 inches wide when cocked, the Vortec is another well-balanced, well-engineered reverse draw crossbow. Similar to the Bruzer, the Vortec doesn't put up astounding numbers in the speed column, 340 feet per second, it does boast a lighter draw weight of 135 pounds. Couple that, again, with the option to integrate the ACUdraw crank cocking device from TenPoint, and you've got a smooth shooting, super-efficient hunting machine.
Looks are a big factor for Vortec. A radical cam design makes it look like it was born to kill, perfect for all of your big game hunting adventures. It is compact, exceptionally maneuverable, and comes as a package with a 3 power, multi-line red/green illuminated scope, and three-arrow quiver. Dressed for success with sleek black limbs, Mossy Oak camouflage, and the vibrant green of the Horton logo, the Vortec RDX certainly won't disappoint.
---
Where and When to Buy?
Now that we've run through the top 10 crossbows for the money available in 2024, you're ready to head to your local pro shop to test them out. It is always best to test any crossbow out before you buy it, just to make sure it actually feels as good as it looks online. At that point, all of the bows on this list are available for purchase online through Amazon.
Hunting