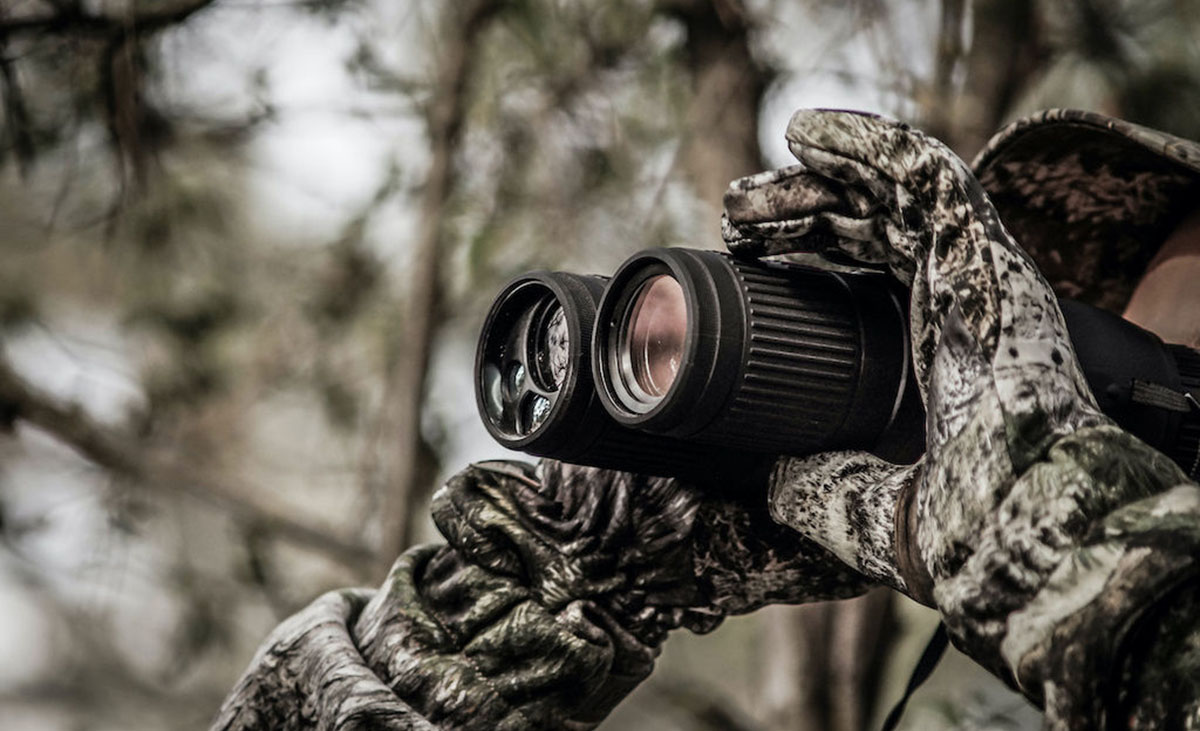 There is an overabundance of binoculars available out in the market today, which makes it even more confusing for us to choose, which one to go for.
Plus, we are constantly bombarded with lucrative marketing messages persuading us to buy even if it is not the right product for us.
Honestly, it is easier to fall for the wrong product if you don't have the right knowledge and do not know what you really want.
So, to make things easier, this article will brief you about the best binocular for hunting on the market today, and in the process, you will learn so much about binoculars, that you will be a specialist in your own way, which in turn will help you decide which one to buy.
We have provided crucial links to the binoculars in case you decide to buy them.
Alternatively, you can simply go to your local store and buy it from there, only they can be a little more expensive than what you will get online.
This article essentially saves you a lot of time so you do not have to try, each binocular out and decide which one you want.
So without further ado, let's jump on the article and see the best binocular for the money in 2024.
OUR TOP PICKS
Vortex Optics Viper HD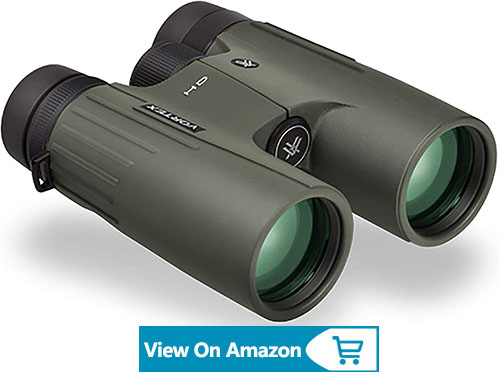 The Vortex Viper HD series is a high-end binocular from Vortex, made in Japan.
Viper HD performs exceptionally in low light conditions especially at dawn and at dusk.
The remarkable HD (high-density) glass also known as extra-low dispersion glass promotes better light transmission for clear and crisp images.
The same HD glass is also used in the lens, this low-dispersion glass shows less chromatic aberration, which is the colored blurring at the edges of the images making the image clear, sharp, and brighter.
The binoculars are made up of tough yet lightweight material known as polycarbonate, typically used where lightweight is crucial while maintaining robustness.
Viper HD weights 25.6oz/697g, and the two thumb indents at the bottom are designed with precision, perfectly angled for maximum comfort.
The Viper's hard-rubberized coating provides a solid grip, which makes it easier to hold during wet or cold conditions.
The binocular can withstand tough weather conditions and it is waterproof as well as fog-proof because the tool is O-ring sealed and purged with argon gas.
The eyecups are made up of high-quality instruments and are easily adjustable.
The Vortex Viper HD 10X42 has an eye relief of 16.5mm, which is great, as it does not put a strain on your eye.
The focusing knob is still fast taking 1.5 turns from complete focus to infinity.
In addition, it looks great and has a very tactical exterior, which helps the knob easily adjust the wheel during the winter when you are wearing thick gloves.
The Viper 10×42 has a pretty good field of view of 319 feet at 1000 yards in addition to 6.1 degrees of angular field of view.
Some rangefinder within the same price range comes with a greater field of view and underperforms, binoculars with the same magnification.
Nevertheless, it all depends on your personal choice. Do you want it for hunting and birding or do you want it for other things like sightseeing?
The exit pupil is 4.2mm, which is more than enough to use for hunting or finding the target.
Viper HD utilizes a multi-coated dielectric BaK-4 prism and high-density lens to work flawlessly in low light conditions providing better images than it was to see through the naked eye. This tough coating also helps the lens from scratch and dust.
Viper HD has a close focus of 5.1 feet for 10X 42 mm as claimed by the Vortex, making it an impressive close focus if you use it at all, perhaps on nearby birds, butterflies, or even bees.
In conclusion, Viper HD provides a lot of value relative to its price.
The only flaw this tool has is its field of view. However, it all depends on your priority and personal choice.
This is a great product with an even greater VIP lifetime warranty, highly recommended.
Check Current Price and Rating on Amazon
Pros
Un-matchable image quality with HD ED glass.
Remarkable field of view.
Very sturdy and burly design with a waterproof, fogproof, and extra-durable body.
One of the lightest yet one of the strongest binoculars out there for its price.
Can mount on a tripod.
Good long adjustable eye relief.
Cons
Can come in various designs like camouflage.
CARSON 3D SERIES HD 10X-50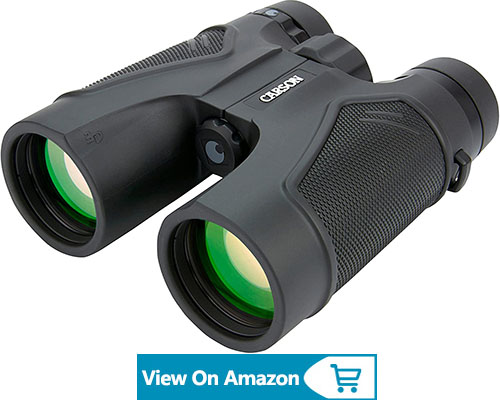 Carson 3D HD is lightweight, waterproof binoculars with a fully multi-coated lens and high-density ED glass for superior image quality.
This binocular is quite lightweight and easy to handle with a large objective lens backed with a great warranty.
The Carson 3D is a successor to Carson's older XM model. The 3D ED model comes with an HD (high-density) extra-low dispersion glass (ED).
The body of the binocular is made up of extra strong and lightweight polycarbonate material for high durability which comes with an extra-light polycarbonate that helps to keep the weight down to 2.2oz (658g).
Moreover, its efficient close bridge design allows the fingers to rest on your binoculars comfortably. The thumb indents are well placed on the binoculars providing further comfort.
Carson 3D is armored with a sturdy, rubberized coating to protect it against harsh conditions.
The 3D series is waterproof. The internal focus mechanism is sealed with an O-ring, eliminating the main cause where water leaks in the binoculars.
The binocular is purged with nitrogen gas to eliminate fog inside the binocular.
It also helps to prevent the growth of fungus inside the binoculars as they eat away all the special coating that is applied to the lens and the prism, which may potentially, distort the image if not prevented.
That is why manufacturers replace potentially moist air with dry gas.
The 3D 10X42 model particularly has a 16mm eye relief, while the 8X42 model provides an eye relief of 19mm, which is great even for the majority of people with glasses to be able to see the full field of view.
The 8X configuration provides a wider field of view than the 10X configuration.
We appreciate the 10X configuration which provides a field of view of 314 ft at 1000 yards with a 6-degree angular field of view, one of the best out there.
We really like how Carson designed the focusing knob, well placed providing relatively fast focus.
It goes from close focus to infinity in about 1.25 revolutions with the focus knob. The transition is smooth, with enough resistance to prevent it from over-calibrating.
We are pleased with the sharpness of this instrument. It provides an edge-to-edge clarity of up to 9/10(90%) from the center, where images are the sharpest.
In addition, a slight warm bias in the color adds more contrast to the image, especially during the daylight.
The moment we start looking through the binoculars during dusk, we gotta tell you, the low light performance of this binocular is remarkable.
The dielectric coating promotes light transmission, which ensures the best performance even in low light.
The performance of 3D with strong light is a bit off in its ability to deal with reflected light during the day.
In conclusion, we are confident about recommending this binocular as it does everything the company preaches.
If it is in your budget, take our word and go for it.
Check Current Price and Rating on Amazon
Pros
This binocular is one of the lightest we have used.
The extra sturdy body frame allows the binoculars to be both waterproof and fog proof.
Excellent features such as Bak4 prism, 100% multi-coated lens, and HD ED glass.
The Mossy Oak camouflage design works well in the forest concealing your identity.
Great warranty.
Cons
Does not come with a lens cover.
Celestron Granite 10×50 Binocular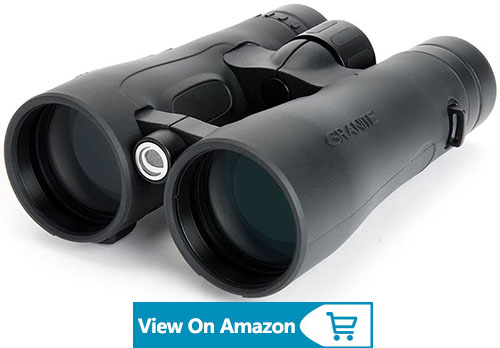 The Celestron Granite is a modern roof prism binoculars that come with a decent quality high-density ED glass for producing decent images in low light.
This binocular is packed with features with fully multi-coating, phase-coated prism, BaK4 prism, waterproof, and fog proof design.
The Granite is a top-range, high-quality binoculars manufactured by Celestron, which is known for its top-of-the-line telescope, and large astronomy binoculars.
The Granite comes with an open-hinge design popular among hunters and bird watchers.
The flawless design looks great, it's comfortable to hold and is lightweight.
The thumb indents are well-placed which lets you hold the binoculars in a comfortable position without any hassle.
The overall balance of the Granite is perfect, nice, and steady, making it a great choice for prolonged use.
At just 24Oz(680.39g) these binoculars are relatively lightweight if you compare them with other binoculars in the same class.
Generally, a lightweight binocular equates to low quality as these are made up of low-quality material but that is not in the case of granite.
The body frame is manufactured with magnesium, which is lighter than airplane-grade aluminum, but it is remarkably tough.
The body is covered with rubber armor giving you that feeling of high-caliber binoculars. In addition, it also protects the binocular from wear and tear caused by bad handling.
This binocular is waterproof preventing water or moisture from damaging the instrument. The moist air is replaced by purging nitrogen gas, which also prevents fungus from growing over the lens surface.
The presence of nitrogen eliminates the possibility of internal fogging or internal corrosion thus increasing the life of this instrument.
The Reasonably conventional twist-up eye-cups are made up of metal coated with rubber providing 17 mm of eye relief with both 8X42 and 10X50 configuration, which is enough for people with or without glasses.
What We Don't Like
The only thing we do not like about this binocular is that it takes two full turns to go from infinity to stay at focus and vice versa.
The minimum focusing distance is 6.5ft (1.98m).
The ED glass (Extra-low dispersion) improves the image quality, and its sharpness and eliminates chromatic aberration.
The binocular uses BaK-4 glass, for a much clearer image, and the prism glass is coated with phase correction coating which only enhances the contrast, resolution, and color reproduction.
Another great feature of the granite 8X42mm is its field of view of 426 feet at 1000 yards, which equates to 8.1 degrees while its popular 10X50 configuration stands at a field of view of an impressive 342 feet at 1000 yards making it the best binoculars for birding.
A great binocular comes at a great price, highly recommended for crossbow hunters or rifle shooters.
Check Current Price and Rating on Amazon
Pros
Excellent for viewing a distant object.
Outstanding performance for the price.
Works for night sky viewing.
Beginner-friendly.
Large field of view.
Completely waterproof.
Large objective lens for better light transmission.
Cons
May be heavy for some users.
Vortex Optics Diamondback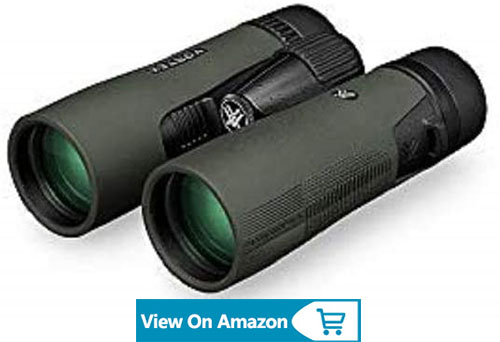 This Vortex binocular is a high-performance tool that produces better and crisp images in low light conditions than any other binocular in the same price range.
The Vortex Diamondback is a fully adjustable binocular that has everything that an entry-level hunting binocular should have.
Vortex Optics Diamondback is moderately economical and renowned for its first-grade quality optics, which make this brand iconic with its excellent lastingness.
Diamondback is not laborious due to its lightweight, which can be easily used by an average being.
The binoculars can function well enough in diverse climates; it is effortless to carry as it offers a wide and comfortable neck strap that can withstand regular use.
Vortex Diamondback binoculars have an impressive quality rubber rain guard that we normally see in high-priced binoculars.
For objective lenses, it has tethered caps with a soft rain guard that is easy to pull out in the field, especially for hunting.
Vortex optics contribute great contrast compared to other binoculars with better clarity and brightness and can work clearly even in different lighting conditions, making the Diamondback a step ahead of other binoculars.
The binocular features 10X magnification through a 42mm objective lens offering a large field of view.
The fully enhanced multi-coated lens allows high light transmission, producing clear and vivid images even at dusk or at dawn. It's multi-anti-reflective coating on phase corrective prism enhances the resolution and contrast.
The moist air is replaced with purging Argon gas to provide a fog-proof performance and the O-ring is tightly sealed to make sure the bino is waterproof.
The rubber armor gives a non-slippery surface and provides robust external protection against erosive conditions.
What Attracts Buyers The Most?
The VIP unconditional lifetime warranty is another great reason to buy Diamondback, Vortex will repair any kind of damage or malfunction at zero cost to the owner ensuring a worry-free experience.
The only thing we do not like about Diamondback is that the eye cup does not work as smoothly and efficiently after a few years of use.
Another great binocular from Vortex, perfect design, and perfect-viewing experiences equate to overall outstanding in-class performance.
Check Current Price and Rating on Amazon
Pros
Well-priced entry-level hunting binoculars.
Wide field of view. The FOV is even better than some of the premium binoculars.
Waterproof and Fog proof thanks to argon purging.
Very comfortable to hold.
Extremely lightweight.
The Viper's VIP Unconditional lifetime warranty is outstanding.
Cons
Does not have high-density ED glass.
Does not include scratch-resistant Armor Tec coating that prevents the optics from dust and scratches.
Nikon MONARCH 5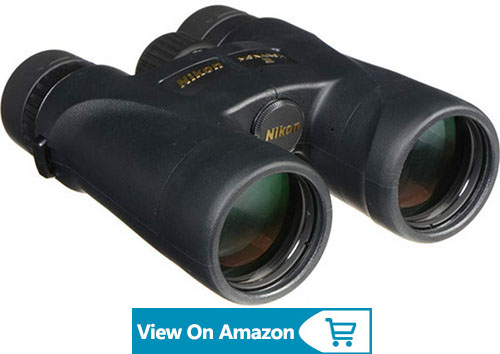 The Nikon Monarch 5 used to be known as Nikon Monarch ATB with just a slight change in design.
This binocular comes in two configurations 8X 42 and 10X 42, with both of them being similar in performance.
Nikon Monarch is one of the most popular binoculars on the market today mainly because of its high quality which comes at an absolute bargain.
Monarch 5 is an exciting mid-range binocular popular among bird watchers and hunters.
Out of all the different models under the Monarch series, Monarch 5 positions itself as one of the best out there.
To make things clear, Monarch 5 used to be Monarch III (not to be confused with Monarch 3) but now it is marketed as Monarch 5.
The ATB stands for all-terrain binoculars.
The binocular is absolutely waterproof, shockproof, and fog proof featuring durable rubber-armored coating to combat harsh environments, and withstand scratches, and dust.
With 8X configuration is wider at 1000 yards featuring 330ft of a field of view, while with 10X magnification is 288ft. Where the 8X 42mm configuration is the obvious choice for bird watching.
The Monarch 5 has an eye relief of 19.6mm with 8X42 while 18.4mm with a 10X42 configuration.
It is always said that with higher magnification comes great shakiness of the image so the best option is to keep the binocular steady for maximum quality.
The new Monarch 5 has a dielectric high-reflective multilayer prism coating for high resolution and maximum brightness for exceptional performance in low light, especially on cloudy days.
The focus wheel is not as effortless as the Viper HD but it's mostly smooth and accurate with little to no resistance than usual.
There is no locking mechanism or click stop with diopter adjustment, which sits right below the right eyepiece.
What Else?
Another great feature is its ED glass that helps correct false-color fringing.
The eyepiece in Monarch 5 does not have a conventional three-element design but a complex design, which may have some potential benefits like good eye relief, flat field, and wide field.
With an eye relief of 19.6 mm with the 8X42 model and 18.4 with the 10X42 model it a decent instrument for the price.
On a good day, the view is great, on a bad day, the view is great as well, sometimes close to premium quality producing images that are crisp, flat, and false color-free.
In conclusion, the Monarch 5 produces sharp images, in the right conditions even producing premium quality images.
The view from the binoculars is sharp and bright and overall a great tool for the money.
Check Current Price and Rating on Amazon
Pros
Clear and high-resolution images.
Comes with a wide field of view.
Good performance in all weather conditions.
The lens covers are flip-down.
Durable built that can perform well in all weather conditions.
lightweight making them one of the best compact binoculars.
Cons
Lack of tripod attachment
Best Hunting Binoculars Under The Budget
Bushnell Legend Ultra HD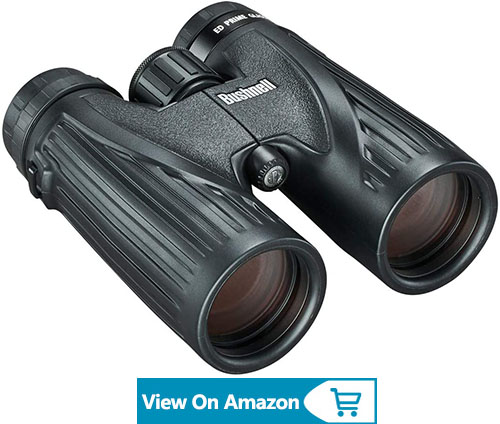 Bushnell Legend Ultra HD is an entry-level binocular that comes under budget. Surprisingly the image quality is ahead of its price tag mainly due to its decent quality optics.
On top of that, the binocular is quite popular with tons of great positive reviews. The binocular surely cannot match one of those premium binoculars but it surely is one of the best-budgeted binoculars.
The Bushnell Legend Ultra HD has become very popular among hunters and bird watchers and there is a reason for that, It simply delivers great quality at such a low price point making it the best binoculars under 200 dollars.
The body of the ultra HD is designed to last, it is made up of magnesium providing a long-lasting, heavy-duty overall body frame even lighter than the airplane-grade aluminum.
Due to its lightweight, the binocular is easy to carry for prolonged periods.
The 10X42 model is about 5.75 inches with fully extended twist-up eye caps.
It was not mentioned anywhere in the product detail or Bushnell's website but the thumb indent has a similar soft-touch thumb grip as Bushnell's other model.
A gel pad is placed under the rubber armor giving it a comfortable hold since the size of hands varies with different people, the fluid in the gel pad adjusts itself to provide a cozy grip.
The armor is malleable enough to provide the effect of padding under the thumbs.
Ultra HD is both waterproof as well as fog proof, which is achieved by replacing the potentially moist air and purging it with dry nitrogen gas.
Another great feature of Legend Ultra HD is its permanent water-repellent coating on its exterior lens.
With great two-level eye-cups with intermediate detent and 3mm increment for each level providing smooth click and the transition is so natural almost feels like butter on a skillet.
We have found the eye relief of Legend Ultra HD is manageable for its price, with the 10X42 configuration suggesting an eye relief at 15.2mm and the 8X42mm configuration suggesting an eye relief at 17.2mm.
The focus knob is as good as it can get, providing a sleek transition from focus to infinity like a good pickup line. Smooth.
The binocular draws 1.5 revolutions to go from infinity to close focus and vice versa, still manageable with the price tag.
The company also claims it to have a field of view of 340ft at 1000 yards, which makes up to 6.46 degrees of angular field of view.
We were surprised by the quality delivered by the sweet spot of the binocular.
The images were bright enough, well-contrasted, good resolution, and controlled chromatic aberration all yielded a good image.
Legend Ultra HD employs extra-low dispersion multi-coated glass manufactured with fluoride, which helps reduce chromatic aberration in the glass.
Ultra HD exhibits true colors with a little yellowish tint. Moreover, the chromatic aberration outside the sweet spot is significantly high.
The light reflected off the water because of sunset or sunrise is less problematic than binoculars in the same price range.
It is able to handle strong light without any complications. In addition, Ultra HD performs exceptionally well in low-light conditions.
In conclusion, the binocular is one of the few binoculars out there that are under promise and overdelivered for its price.
Definitely, a recommendation proves itself as good hunting binoculars on a budget.
Check Current Price and Rating on Amazon
Pros
Lightweight with a carrying case.
Waterproof and fog-proof.
Decent eye relief.
Surprisingly wide field of view.
Good manufacturer warranty.
Cons
No flip covers.
Not made for astronomical viewing.
Best Hunting Binoculars For $1000 and Above
Bushnell Fusion 1-Mile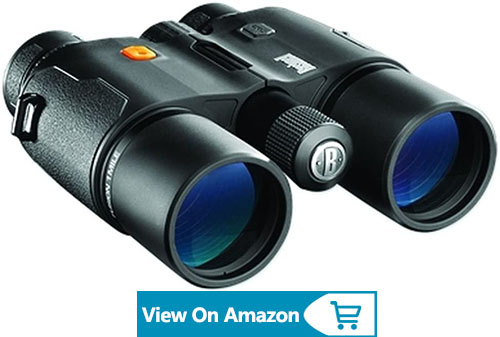 The Bushnell Fusion 1-Mile ARC is a long-range hunting binocular and a beast in terms of performance, it is jam-packed with amazing features including range-finding capabilities, angle compensation, and Matrix display technology.
Despite having a hefty price, this binocular is quite popular among hunters.
The Fusion ARC binocular is an ultimate range-finding binocular that comes with pre-equipped BAK-4 prism glass, a fully multi-coated lens as well, and a true ranging distance of 1760 yards.
The YRT coating, Matrix display technology, variable sight in modes, anti-fogging coating, and a complete weatherproof design make this binocular one of the toughest, best binoculars for hunting on the market today.
The images produced by Fusion ARC are rich in detail, clear contrast and a remarkable amount of clarity combined with its adjustable brightness and the matrix display technology really pushed the envelope here.
But before everything, what is matrix display technology? This feature allows the rapid light transmission to enhance display readings largely due to which, you receive detailed visuals to be able to range your target at any moment.
Without a doubt, the fusion ARC has an exquisite and exceptional optical performance.
It comes with a fully multi-coated BaK-4 prism with Bushnell's PC-3 phase corrective coating to produce crisp and sharp images.
The binocular is specially designed for rifle and bow hunters that is the reason why it comes with a 12X magnification and 50mm objective lens for proper light transmission making it one of the best binoculars for long-distance.
The XRT technology even enhances the light transmission and a waterproof coating to withstand harsh weather.
With all that necessary coating, the image quality is one the best we have seen and we have seen a lot. The clarity, the definition, and the precision are remarkable.
The Fusion ARC binoculars have an eye relief of 18mm, which still has one of the best designs on the market.
On top of that good eye relief helps with a strain to the eye after prolonged use.
Even though the weight of this binocular is more on the heavier spectrum, weighing from 30.8 to 32.7 ounces but considering its range-finding capabilities, you gain more than you lose.
The maximum range of Fusion ARC is 1760 yards, that's a full mile and hence the name suggests Fusion 1-mile ARC.
However, for those of you who are not very familiar with optics in general, It is the range for the highly reflective surface a rangefinder can read.
You can expect a maximum range to find a game like a deer or a buck at around 500 to 800 yards. This is still impressive if you're bow hunting or rifle hunting.
Check Current Price and Rating on Amazon
Pros
Range out to 1760 yards in ideal condition.
Range-finding abilities.
Various advance-ranging modes make sure you read the distance to your target without a hiccup.
Providing ballistic functions.
Matrix display.
XTR technology.
Cons
The display looks brighter than usual.
The focusing knob feels a bit tight.
Zeiss Conquest HD Binocular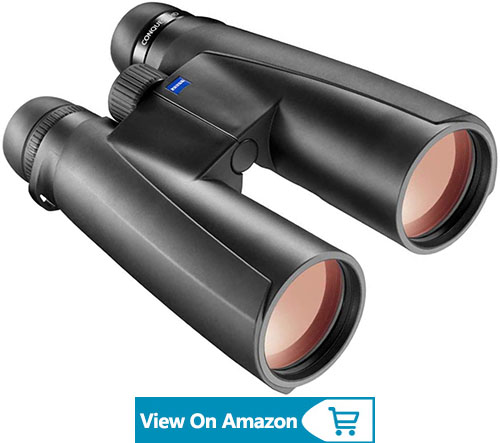 Zeiss Conquest HD is simply one of those promised over-delivered binoculars. The binocular comes in 10X and 8X magnification configurations producing images of remarkable quality.
Let's jump on to the article to see the specifications and features of this tool.
The Zeiss Conquest HD comes with a razor-sharp image quality thanks to its HD (high-density) lens, Schott glass, and LotuTec coating.
The binocular is durable, comes with an ergonomic design, and has a wide field of view, which is great for hunters out there.
With a price tag of one grand, the binocular is a mid-range premium binocular from Zeiss and is more than enough for hunting, shooting, or bird watching if that is your preferred sport.
The high-end Schmidt-Pechan prism system provides excellent light reflection and light transmission making it superior to other binoculars at the same price range.
Conquest HD provides razor-sharp and vivid images with specially formulated mirror and phase-corrected coatings, making it absolute chromatic aberration-free binoculars in the low light environment.
The extra-low dispersion high-density glass provides maximum resolution with high contrast for optimal viewing experience by bringing all the wavelengths of light at a single place.
The LotuTec coating provides extra resistance to extreme weather conditions and its scratch-resistant, dirt-resistant features are designed to model the self-cleaning properties of the lotus leaf.
This self-cleaning LotuTec coating not only helps with dirt and scratches but also helps to prevent water from sitting on the lens thus minimizing the glaring effect.
In certain conditions, the roof prism can create some weird unnatural optical effects, the phase correction coating in the binoculars prevents it without compromising the image quality.
One of its great features is its 5-year no-fault warranty, which means if you accidentally break the binoculars, the company will repair them for you without any charge. No questions asked.
On top of that, the warranty is easily transferable, if you decide to purchase a used binocular from Zeiss, you will still get their lifetime warranty against manufacturer defects.
The Conquest HD is purged with nitrogen gas to protect it from fog.
The nitrogen purging also prevents the lens from yeast from sitting on the surface. In addition, the binocular is completely waterproof up to 13 feet in the water.
If we talk about the design, the Conquest HD fits comfortably in your hands, its thumb intent is well placed.
The 8X42 configuration gives an outstanding field of view of 384ft providing an incredibly wide area.
Another great feature of this binocular is its close focus which comes in at 6.5 feet(2m).
Moreover, the binoculars offer 18mm of eye relief and it is easy to use by glass wearer.
The Conquest HD is a great binocular that comes at a bit of a price, specially designed for hunters and shooters.
Check Current Price and Rating on Amazon
Pros
The 10X magnification comes with an excellent field of view.
Extremely clear Zeiss glass.
Lightweight and portable.
Ergonomics design that makes the binocular more comfortable to hold.
Can be used by both people with eye-glasses and without eye-glasses.
Produce very sharp bright and clear images.
Featuring an excellent warranty.
Cons
Not everyone can afford it.
Best Binocular Buying Guide
Things to keep in mind before buying the right binocular for hunting:
Magnification
Greater isn't always better, especially in the case of binoculars.
If you want to go for a binocular with higher magnification, you might want to rethink your evaluation.
A magnification of 7X to 10X is right in the sweet spot for hunting or shooting mainly because of the stability of the image.
As the magnification of the binocular increases, the stability of the image starts declining.
However, there is an option of buying bigger, heavier binoculars with tripods but again this option is not convenient for the likes of hunters.
It is better to go for a spotting scope for higher magnification.
Objective Size
The objective size is the lens and is represented as the latter number in a typical binocular with the configuration of, for example, 10X42. The 42mm is the diameter of the lens in a binocular.
The larger the objective lens the better the image quality, as it allows better light transmission.
A 42mm objective lens is common among hunters as it is relatively cheaper than a 50mm objective lens which is popular as well.
The low light performance of a 50mm objective lens is exceptional to a 42mm lens but you have to compromise with the overall weight of the binoculars.
Field Of View
Generally, the field of view is measured against 1000 Yards.
Basically, it's the area the binocular covers at 1000 yards with maximum magnification.
So if a binocular has a field of view of 320ft at 1000 yards, it simply means the binocular will be able to see 320 feet across in the field at 1000 yards with maximum magnification.
For hunting, it is always preferred to have a binocular with a greater field of view.
Exit Pupil and Relative Brightness Index
The bigger the exit pupil the more amount of light you will be able to envision.
The exit pupil is determined by dividing the objective lens diameter by maximum magnification.
The RBI(relative brightness Index) can be calculated by figuring out a square of the diameter of the pupil. An RBI of 25 or higher is considered to work best in low-light conditions.
Prism Type
There are two distinct prism types: Roof prism and Porro prisms.
The roof prisms are the most popular and useful among the two due to their lightweight slim and compact dimension. The roof prism reflects light five times.
It takes more precision to manufacture a prism like this, which considerably raises its price.
On the other hand, the Porro prism is bulkier than the roof prism and it needs a larger body to reflect light four times.
The large body makes it heavier but they are easier to produce which makes them less expensive.
Type of Focus
The binocular comes in two designs, an individual eyepiece focus or a central focus.
For medium to long-range distances of observing a target at yards, individual focus binoculars yield exceptional results.
However, for central focus, the ideal distance to observe a target is 30 yards or less.
Eye Relief
It is the distance between your eye and each eyepiece of the binoculars while still being able to observe an entire field of view.
It is a critical consideration for people with eyeglasses. For people with an eyeglass, an eye relief of 14mm and above is suitable.
Another advantage of long-eye relief is that it will not put a strain on your eyes after prolonged use.
Coating on Optics
A coating of chemicals is layered on the glass surface to eradicate the light reflection.
A high-quality coating downright banishes any form of light reflection and glaring effect from the binoculars.
A high-caliber coating also enhances the brightness of the image and produces a clear picture.
Nowadays, binoculars have at least a single type of anti-reflective coating.
Others are fully coated, multi-coated, and fully multi-coated.
The Later one can be a bit more expensive than the other but the quality is unprecedented.
Image Quality
Good image quality is crucial if you are operating with the binocular for more than a few hours or if you are a hunter.
Good image quality directly depends upon the quality of the lens and the quality of glass used in the binoculars but they significantly increase the price as well.
You will start to use good image quality with binoculars around the price of $150 and above.
How Compact
The size and weight depend upon the type of objective lens used.
A bigger objective lens can do wonders with the image quality, especially in low light conditions but it also increases the weight significantly.
If you are a person who can carry around 2 pounds with you, a 50mm objective lens is recommended.
If you do not want to carry a heavy binocular, a 32 mm or even a 42mm objective lens binocular is fine too.
Weatherproofness
The rubber armor coating in the binoculars protects the binoculars from wear and tear, it makes them sturdy to withstand extreme weather conditions.
It is crucial to have waterproof binoculars, especially on rainy days.
Waterproof binoculars are typically sealed with an O-ring, which prevents water, moisture, and dust from entering the binoculars.
The binocular is purged with argon or nitrogen gas, which replaces the moist air present in the binocular to make it completely fogproof.
Hunting