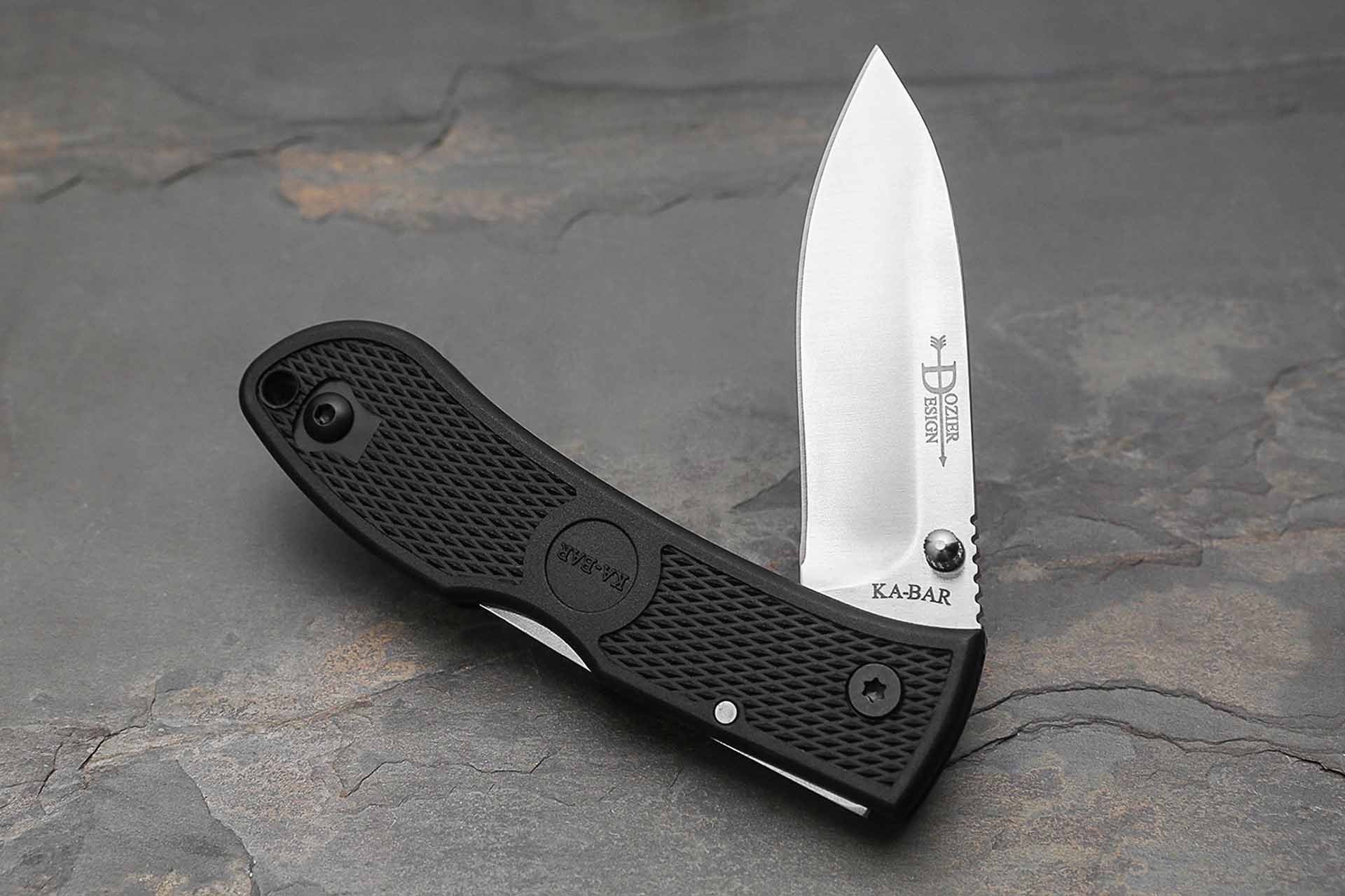 The Ka-Bar Dozier Folding Hunter is an award-winning lock back knife designed by Bob Dozier that is an affordable, practical, all-purpose blade for daily use. All for under $20. The knife is available in pink, coyote brown, ODC green, black, orange. The blade comes without the black coating on some models. The thumbscrew and clip are reversible and there is a version with a thumb hole.
The blade is coated in a smooth black coating which has proved to be fairly durable. The lockup is tight without any play and the blade opens smoothly. Out of the box, sharpness was very high, I'd expect no less of anything Bob Dozier assigns his name to. It would shave hair with almost no pressure as well as magazine paper straight down.
I've put this blade to a variety of tasks so far. It's made 3 handfuls of shavings and multiple Fuzz Sticks out of extremely old, hard fatwood and seasoned pine. It easily shaves wood into nice curls, the thin blade and high acute grind see to that. The coating looks the same as the day I bought it. It doesn't bind while carving. The lock stays put fine even with heavy pressure. The blade excels at food prep, easily slicing through things like tomatoes and onions instead of splitting or crushing them as many thicker blades will. I've also used it for everyday tasks like opening boxes, letters, cutting rope, etc.
The spine has a nice 90-degree angle and using the back of the blade near the tip on a Firesteel produces an impressive shower of sparks.
The Ka-Bar Dozier Folding Hunter makes a great knife for backpacking or as an EDC knife. I have purchased a few to give to family and friends. I carry one every day.
Details About This Folding Knife:
Steel: AUS 8A Stainless Steel
Weight: .15 lb.
Blade Length: 3″
Overall Length: 7-1/4″
Blade Thickness: 0.15
Grind: Hollow Ground
Edge Angle: 15 Degrees
Lock Style: Lockback
Handle Material: Zytel
HCR: 56-58CR
Pocket Clip: Yes
Made In: Taiwan
Blog, Hunting, Knives