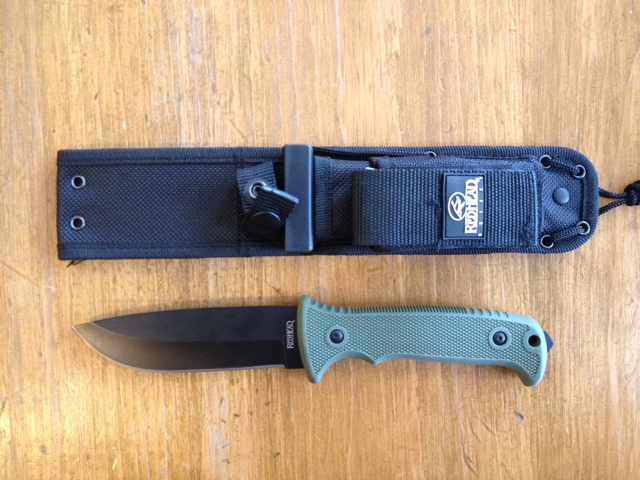 I have several pocket knives but can you really ever have enough knives? LOL But, like a lot of things I was looking for just the right knife for backpacking that I could carry on the shoulder strap of my backpack. This would make it easily available when needed. I searched many sites for recommendations and I know there are many choices other than this knife. But, I liked the size, weight, and ruggedness of this knife. It is full tang construction with a nice grippy handle. It balances just above the front screws on the handle. It is also one of the few knives, of this price range, that was stainless steel.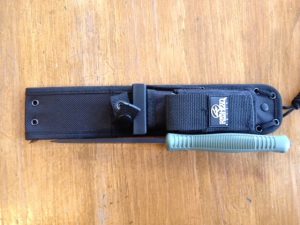 It comes with a decent nylon sheath, has a snap lock strap, and a small pocket on the front that contains a small sharpening stone. There is room left in this small pocket for other items. There is a plastic sheath with an integrated locking mechanism that holds the knife fairly securely without the snap-lock strap. Also comes with a cord for tying the sheath to your leg and sewn loop for placing on a belt. So far, I like this knife. The blade is about 1/8″ thick and seems to take a pretty good beating. I will update later if I have any problems.
Here is the information, from www.bobsop.com, on this pocket knife:
Tough, hard-working fixed blade knife. Strong 4.8" high chromium 440 stainless steel blade. Non-reflective, scratch-resistant black oxide blade coating. 58-60 Higher Rockwell Hardness (HRC) blade enables longer edge retention. High resistance to corrosion. Easy to sharpen 15° – 18° edge grind angle per side. Strong full tang construction. Glass breaker point for emergency situations. Custom-fit snap lock sheath comes with the sharpening stone.
Grab a tough, fixed blade knife that's ready for work with the RedHead Expedition Fixed Blade Knife. Made of a high-chromium, 440 stainless steel for superior strength and durability, the Expedition's 4.8" blade features a non-reflective black oxide coating for superior scratch resistance. Easy to sharpen, this sturdy blade features a 58-60 Higher Rockwell Hardness (HRC) rating and high resistance to corrosion for longer edge retention. Full tang construction for optimized strength and glass breaker point in pommel for emergency situations. Comes with sharpening stone and custom fit snaplock sheath. Weight: 10.25 oz. Overall length: 10.25".
Price: $29.99
3 reviews with 4.7 out of 5 stars
Camping, Knives